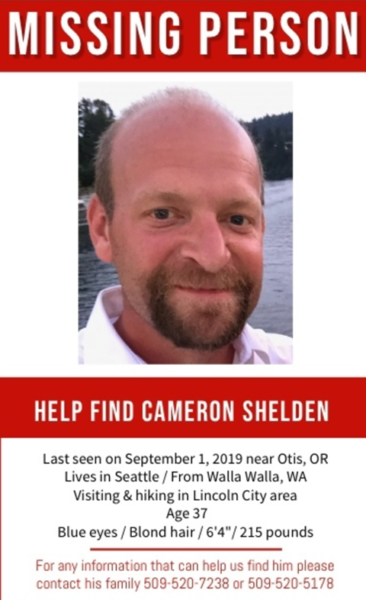 Seattle railroad engineer Cameron Shelden went missing Sunday, Sept. 1, after visiting a friend in Rose Lodge, according to his wife.
April Shelden said her 37-year-old husband left a residence in Rose Lodge and might be in the woods north of N. Widow Creek Road.
Homepage has contacted the Lincoln County Sheriff's Office, which is leading an investigation into Shelden's whereabouts and is awaiting further information.
The family is spreading word of his disappearance with flyers and on social media, spearheaded by his wife, who is in Lincoln City to coordinate search efforts.
"It's out of character for Cameron to be out of contact for so long," she said. "I hope he's OK."
According to Mrs. Shelden, search and rescue has been looking for her husband in the woods north of his last reported location. She said he is "semi-outdoorsy" and has some experience camping and hiking.
"He's not hardcore, like go play survival or anything, but he has been camping and hiking," she said.
Shelden has no vehicle and left the house near N Widow Creek Road without his wallet, keys or cell phone.
"He's completely on foot and has nothing with him except for his work bag," she said.
Shelden has blue eyes, blonde thinning hair, is 6-foot-4 and weighs 215 pounds. He might have his work railroad work duffel bag with him.
If you have any information, contact Lincoln County Sheriff at 541-265-0777