Published 07/19/2018 at 3:42 AM PDT
By Oregon Coast Beach Connection Staff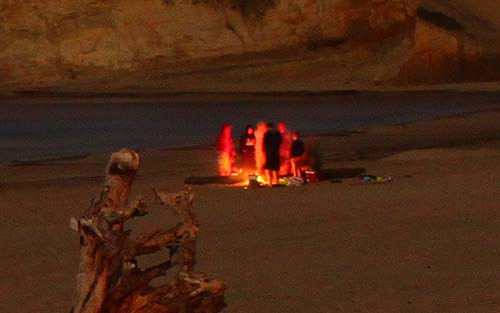 (Portland, Oregon) – A statewide ban on campfires and open flames in any state park has resulted in a ban on beach fires on the Oregon coast as well. Gov. Kate Brown's declaration of a fire emergency throughout the state prompted the ban, with Oregon Parks and Recreation Department (OPRD) is prohibiting all campfires and open flames in all state park properties effective 10 a.m. on July 19.
The campfire ban applies to all open flames at campgrounds, day-use areas and all parts of Oregon coast beaches and shorelines managed by OPRD. The agency said this means fires burned from wood, charcoal or any other flame sources that cannot be turned off without a valve. Devices that can be turned off are are permitted by state officials, such as liquid fuel stoves or other similar outdoor cooking appliances. These cannot be left unattended, however.
OPRD deputy director MG Devereux said in a press release the risk for accidental fires, however small, is too great, even on the Oregon coast. The main issue are the limited firefighting resources at the moment because of several large wildfires burning around the state, including at Silver Falls State Park. Devereux said it's not so much that some beaches will be at such a great fire risk, but that many local fire departments have been sending firefighters to deal with some of the large fires around the state. This leaves these areas vulnerable.
"We understand this is an inconvenience for campers, especially those who might not see the immediate need for local fire restrictions," said Devereux. "We appreciate the public's patience and their willingness to help protect our natural areas."
State officials said to expect the fire ban to last at least seven days, possibly longer. Conditions will be re-evaluated in that time, based on weather and the number of resources available, along with input from state and local fire officials as well as the Oregon Department of Forestry.
However, inland temperatures are expected soar again close to 100 degrees at the end of the weekend, which may elongate the beach fire ban along the Oregon coast.
More Oregon coast below: