Published 08/31/2017 at 4:43 AM PDT – Updated 08/31/2017 at 4:455 AM PDT 
By Oregon Coast Beach Connection staff
(Oregon Coast) – Summer brings all kinds of wonders to the Oregon coast, but it also brings a deadly secret hiding in the waves you love to wade in. There are sometimes massive holes lurking beneath those breakers that can cause you harm, and most coastal authorities never warn you about them.
When sand levels get as high as they often do in summer, they create giant piles of sand and crevices between those piles. Sometimes, those mounds of grains and the pools between them sit in the tide line, where people love to wade up to their thighs, and that's where the deadly situation can start.
The spaces between them can suddenly drop as much as ten feet or more at times, and if you fall into one of these you're chances of recovering and getting out are not great.
Luckily, it doesn't happen very often, but unfortunately it's not talked about enough because of that.
On the north Oregon coast, they have the nickname of "crab holes," but there doesn't appear to be a technical name for them. They basically refer to lower parts of the sand beneath the breakers that you can't see. These can suddenly drop a foot or two, or much more – even up to ten or 15 feet.
If you drop abruptly a couple of feet, it will hurt. The shock will shake up your system as well, but that sudden dip won't injure most people. The problem comes when these drops are over a few feet, and especially when it comes to children whose lesser heights put them at more risk. If you or a child falls into one deep enough, you could find yourself under water. Worse, that shock may not allow you to pull up fast enough and your lungs begin taking on water.
Keith Chandler, manager of Seaside Aquarium, said this comes about because of the piles of sand that build up during summer's more mellow wave action. They build up just beyond the surf as well right in plain sight on the beaches. You can often see this striking sight on many beaches around the coast: areas where the sand rises and falls in height.
It's this kind of terrain under the breakers you have to worry about.
"The sand under the ocean is not flat," Chandler said. "There are holes, deeper spaces between those sand bars, and they can be deeper than you realize."
For kids, a three- to four-foot drop can mean serious trouble.
On the extreme end, those ten-foot crab holes are just plain deadly.
Chandler said the shock of abruptly landing in such a way often causes you to breath in hard and fast. If for some reason the drop-off is low enough to put you under water – even if it's something you could normally swim out of – that instinctive breathing in means you've swallowed a mouthful of water.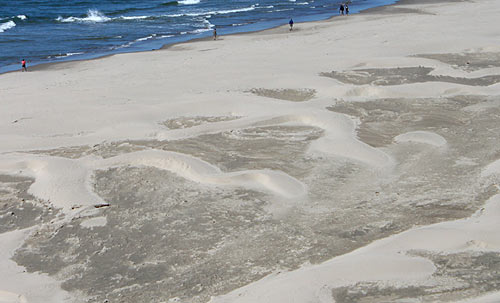 A good example: note the massive patterns and dips in the dry sand at Newport. These happen underneath the tide line as well, and you can't see those sudden dips when they're filled with water.
What to look for? That's kind of complex.
"If you can't see the sand at your feet, it's too deep to go into," Chandler said.
He went as far as to suggest not to go wading in the ocean at all, since people really need a trained eye to know what to look for. Where to stay for this event – Where to eat – Map and Virtual Tour
Another important point, according to Chandler: walk back the exact way you came if you have gone out wading beyond your knees. Since these mounds of sand can drop off suddenly to the right or to the left of you, make sure you come back the same path you took.
Note the deeper area you must wade through to get to the main breakers a ways away. Be cautious of spots like this.